Job Description and Benefits
Lifeguards are part of a team responsible for the delivery of a high-quality, school-holiday, Kings Camps experience, ensuring children aged 5 to 17 are active, having fun and learning together.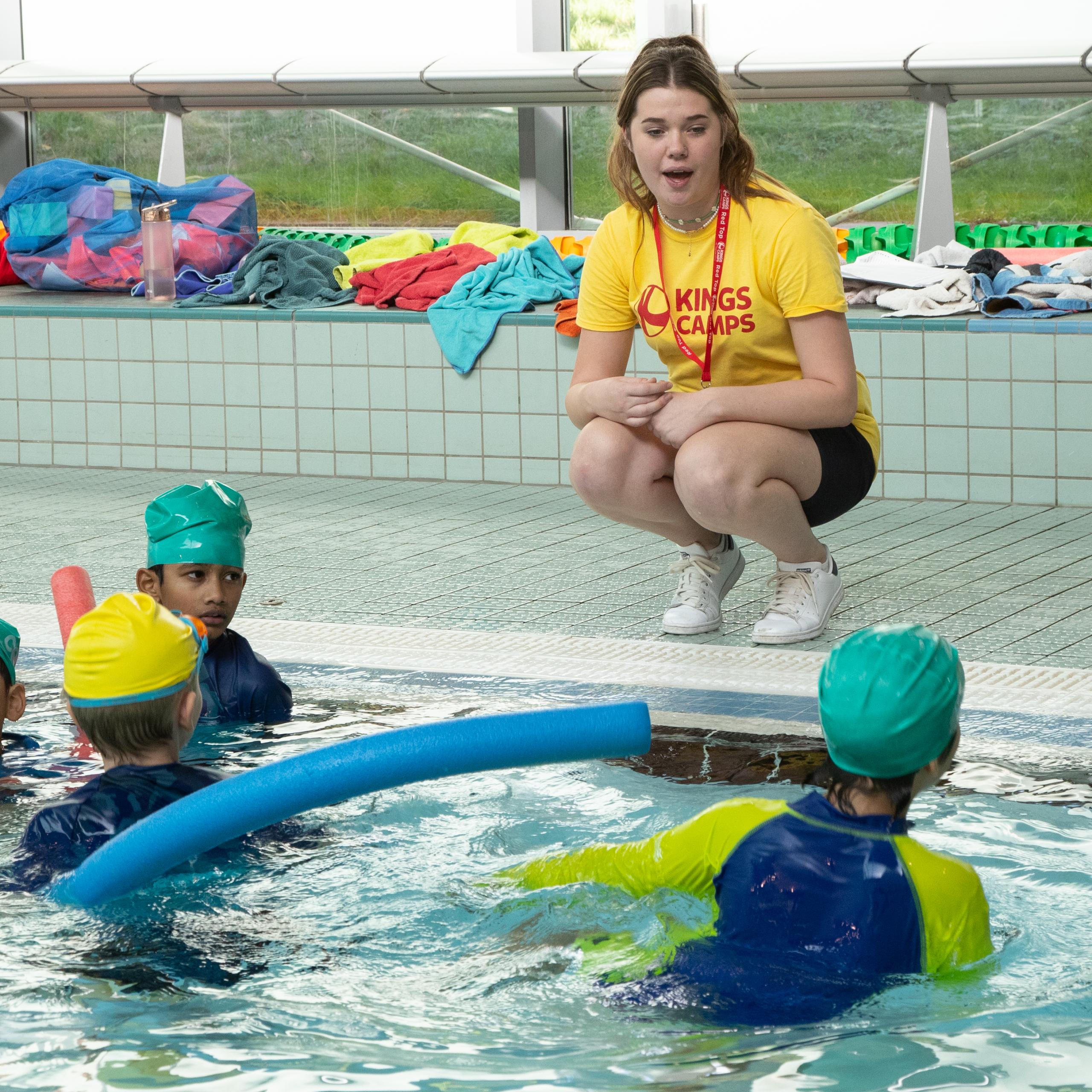 About the Role
Working from poolside with our Swimming Teacher and site teams, Lifeguards are responsible for the safe delivery of fun and engaging swimming sessions for children aged 5 to 17.
Lifeguards have a high level of responsibility, requiring a valid NPLQ qualification, attention to detail, and the ability to respond appropriately to the pool environment. Lifeguards must prioritise child welfare and safeguarding children in the water and poolside.
As part of our Multi-Active Programme, children are grouped by age – typically 5-7, 8-10, 11-14, 15-17 – for swim activities, so you'll need to be able to adapt for varying age and ability levels. Our swim programme involves structured, active games and fun activities (rather than a learn to swim), focussing on developing water-confidence and basic stroke development.
A typical day includes working with 3 to 8 groups of mixed ability children, with a maximum of 16 children in the pool. Sessions typically last between 30 – 45 minutes. Session times and pool availability will vary, but we typically run sessions between 9.30am – 3.30pm, Monday to Friday.
Safety is our number one priority, and Lifeguards work closely with Swimming Teachers to ensure preparation of areas and equipment, management of risk assessments, monitoring of water conditions, and management of incidents. Children and staff must adhere to the Kings Camps' Swimming Policy, the venue Normal Operating Procedure and Emergency Action Plan.
There's a degree of flexibility regarding Lifeguard hours and the opportunity to mix Lifeguard responsibilities with general sports coaching.
Person Specification (Ideal, but with some flexibility)
A current Lifeguard qualification: National Pool Lifeguard Qualification (NPLQ), National Rescue Award to Swimming Teachers and Coach (NRASTC), STA Safety Award for Teachers Qualification. We will require up to date certification.
At least 6 months' Lifeguard experience
Able to conduct a depth test at the venue
A passion for developing children's water confidence
Vibrant, resilient, team player
Flexible and adaptable
Benefits
Working with Kings Camps during the holidays offers you more than just a job, the benefits listed below will last throughout your career:
Hourly rate of pay to be agreed
Flexible shifts in the school holidays
High quality, enjoyable and worthwhile experience
Career development and the potential of regular employment with Kings
Experience the joy of developing others in leadership, communication, coaching and working with children
Enjoy delivering market-leading activity programmes
Work in first class facilities and locations – the best universities and schools in the UK
Benefit from a proven training and onboarding process
Make a difference to the lives of children from a variety of backgrounds – you'll be contributing to the health of the nation
Location & Times
Locations: Over 50 Schools and Universities across England, Scotland and Wales
Dates: Easter, Summer and Half Term School Holidays.
We're committed to safer recruitment
Safer recruitment is central to the way we work and all staff and volunteers are expected to share our commitment to safeguarding. To create an environment where young people feel safe and can thrive, our staff selection process includes:
A video interview (approx 40 mins) which covers suitability, experience and skills
Seeking at least 2 professional references
An enhanced disclosure with barred list check (or equivalent for Scottish Residents)
Ongoing training and performance evaluations with structured support from your Manager
Find your perfect role!
Roles Available at Kings Camps