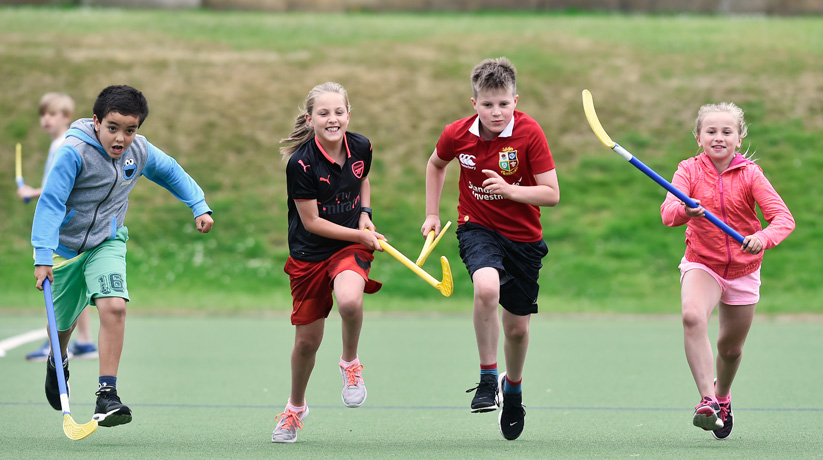 It has long been established that encouraging children to participate in sports and physical activity throughout childhood is fundamental in facilitating healthy, lifelong relationships with exercise and fitness. As a child grows and develops, a commitment to frequent physical exertion builds strength, confidence and resilience – a set of attributes which will support them throughout life. With so many benefits at stake if a child doesn't participate in regular exercise, how we connect children to sports and fitness, and how we contribute to their perception of sport, has never been more important.
Reinforcing this truism, a recent, world-leading survey by Sport England has concluded that children who are physically literate do twice as much activity as those who are not. There are five elements to physical literacy; enjoyment, confidence, competence, understanding (that being active is beneficial) and knowledge (of how to get involved and improve). Of the five elements, the report affirms that above all else, enjoyment is the biggest driver of activity levels in children and young people. Sport England Chief Executive, Tim Hollingsworth, states that "This discovery is a critical moment for society to better understand what will motivate young people to get active."
He went on to say that "This survey gives us the richest evidence yet that sport and physical activity for children needs to be fun and enjoyable above all", a testimony which resonates deeply with our mission and values as a multi-functional organisation. We are a not-for-profit with several operations, each of which works towards making sport accessible, fun and inclusive for all youngsters. Our aim is to develop childhood potential, self-esteem, confidence, and mutual respect for others through the delivery of sports and active play. Making sports enjoyable is fundamental to how we achieve what we do, which is why the recent findings reverberate so resolutely with the Kings' mission of getting 2 million children active by 2020.
We are best known for our brand Kings Camps, a provider of children's activity camps with a difference. However, you may not know that we recruit candidates for remarkable Youth Staff positions on resorts and world-leading cruise liners under our brand Kings Recruit, as well as recruiting our own fantastic 'Red Top' coaches for camp. Alongside this recruitment effort, we develop children's programmes for holiday and leisure services through Kings Active Training. We also work with schools across the UK to teach their pupils how to lead their own Active Play sessions via our Active Leaders initiative. These multiple branches to our central Kings Foundation vision help us to ensure the Kings Factor – an enjoyment in sport and activity which makes a palpable difference to the lives of children – stretches far and wide.
Kings Camps
Kings Camps deliver school holiday activity camps with a difference. Our camps focus on inclusivity to ensure that every child and Red Top is actively involved in the fun. We don't believe in coaches who demonstrate from the side-lines; our Red Tops are always engaged with camp activities, inspiring children of all backgrounds to do the same. Enthusiasm is contagious, and within the community environment of camp, it is this raw energy which motivates children to participate, to enjoy sports, to value teamwork, to develop confidence and to realise their potential.
Kings Recruit
Kings Recruit is a fundamental function of our mission. It is under this brand that we seek out individuals whose attitude and ethics align with ours. We select the best sports coaches who possess the five core values of our organisation: remarkable, progressive, honest, lives the Kings Factor and is servant-hearted. These qualities ensure our camps are run by people who champion our mission, all whilst keeping children active, happy and safe. This all culminates in a camp experience where the engagement and enjoyment of every child is a priority.
Alongside our camp recruitment drive, we also recruit Youth Staff candidates for world-famous holiday resorts and cruise ships. This work provides amazing opportunities to young adults in the UK who have a passion for working with children and an aptitude for delivering dynamic and stimulating youth programmes. Here, the Kings Factor finds its way into the realm of family holidays and ensures a high standard of active, engaging play; even when away from home.
Kings Active Training
Kings Active Training reinforces our work with resorts and cruises, amplifying and extending our vision of using sport to enhance childhood experiences overseas. Under this branch of The Kings Foundation, we create world-class holiday programmes and staff training for holiday and leisure services so that children can have a positive experience of being physically active whilst abroad. In this technical age of gadgets and social media, the need for children and young people to be active, robust and resilient doesn't pause and wait at home.
Active Leaders
Our Active Leaders initiative involves Kings Foundation representatives going into schools and teaching groups of pupils how to lead safe and inclusive active play sessions with their younger peers during play times. We use minimal equipment and coach them in kindness, empathy, and the physical literacy of safety in sport. Active Leaders demonstrates to children how to encourage less confident peers to join in, be themselves and feel included. Through this initiative, sport is mixed with the development of key life skills – communication, leadership, competence, kindness and confidence. When children are trained in positions of sport leadership, it not only provokes their own desire to get active but also helps the more reserved among their classmates to overcome their caution about participating, provides opportunities to make friends and ultimately derives enjoyment from sport.
In conclusion, the new findings by Sport England reinforces our long-established approach to delivering sports and activities not only on our camps, but on holiday resorts, cruise ships, and in schools across the UK. We champion the idea that children should find physical activity fun, safe and educational. Sport is more than just maintaining physical wellbeing; for The Kings Foundation, sport is learning how to communicate effectively, to believe in yourself, to encourage your team mates, to practice kindness, to learn how to lead and how to be led. The combination of these lessons ensure that children enjoy their experience with sports, returning to it again and again because they want to and because the experience is a positive one; not simply because they understand that it's good for them.